After their wedding reception in Valley Cottage, NY, Carol + John went all out to immortalize their marriage with this epic vintage inspired day-after shoot in Manhattan's Central Park and Grand Central Station.  I need to preclude these photographs with the story of how John met Carol.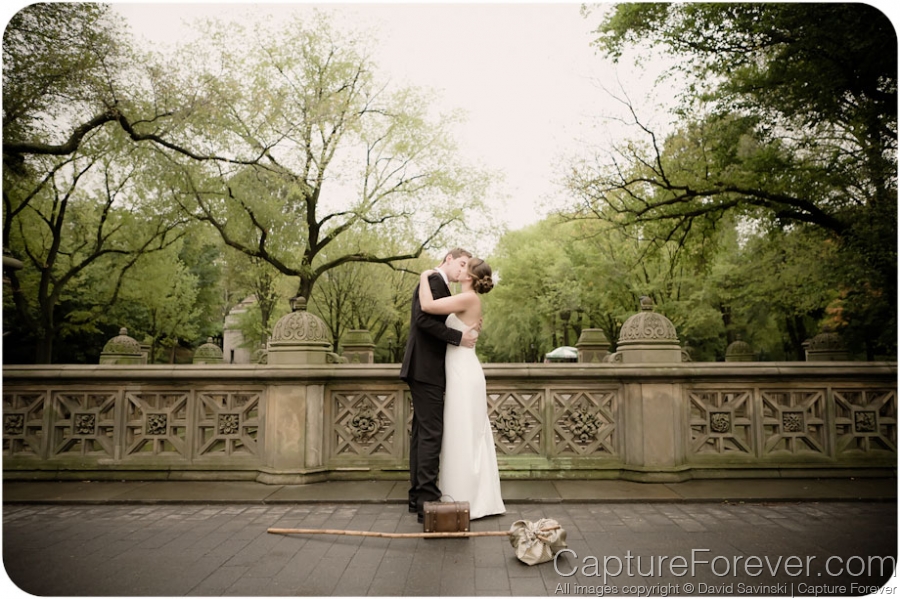 A few years ago John set off on a personal self discovery journey that took him on travels world-wide.  With ambitions of sailing around the world as a deckhand, John set out to find a sailboat in need of a crew.  While waiting to find a sailboat in Rio de Janeiro, Brazil, John met Carol at a dance club and the two fell in love.  They were soon separated when "The Golden Fleece," a 42-foot sailboat, swept John away to Trinidad & Tobago.  After a month at sea, John rushed back to Rio to stay the rest of his visa with the girl he fell in love with before stealing her back to the United States.  Knowing the story of how John met Carol was very inspirational to me with how I styled and photographed their day after photographs.  John's story of the wayfarer traveller inspired the couture bindle (sack on a stick

for those like me who don't know what a bindle is).  I made the bindle with an antique walking stick I found at C D Antiques in Nyack, NY.  The bindle's pouch is fashioned from an oversized, black and ivory striped handkerchief from American Apparel in Los Angeles.  John's Argus Seventy-Five camera was also found, oddly enough, at C D Antiques about 2 feet away from the walking stick.  I wasn't planning on implementing a camera into the story until I saw this camera sitting there and it suddenly made perfect sense!  Carol's vintage-inspired suitcase is from Pottery Barn.  The bouquet was provided by Manhattan's Elizabeth Ryan Floral Design.  John is wearing Zara on top of Aldo.  Carol is wearing David's Bridal on top of Bellissima Something Bleu.  Paper for the twist ending from Kate's Paperie in SoHo.